In this section we'll be highlighting upcoming tournaments and celebrating successes at past tournaments.  Map of upcoming Tourneys
U13 Girls NPFC Orange
The NPFC U13 Girls team have been very busy in 2002. They captured the Northwest Ohio Soccer Championship (Maumee) with an undefeated record - (27) goals for and (1) goal against. The team continued their winning ways by winning the Troy Soccer Classic with (13) goals for and (1) goal against. The highlight of this tournament was beating the TSC Nova (Troy) in the title game. They were ranked 6th in the state at the time. The team didn't stop there and posted a 9-0-1 record to win the Fall MSYSA Division Championship with (27) goals for and (2) goals against. Their hard work has continued into the winter indoor session by winning the National Indoor Regional Championship with (26) goals for and (10) goals against. After losing to the Novi Jags (now ranked 6th in the state) in the first game (6-4), the team made some corrections and beat the Jags in the finals (7-1) to take the championship. We look forward to challenges in the Indoor Nationals and the upcoming Spring season.
click on photo for full size
Top Row: Amanda, Karen, Annie, Joanna, Amanda, Sam Makki
Middle Row: Carissa, Jackie, Jordyn, Julia, Kelsey
Bottom Row: Lyndsey, Lisa, Sarah, Maria, Sarah, Elizabeth
U11 Girls NPFC Orange
Runner Up: Waterford Tournament, Fall 2002
Runner Up: Cincinnati Fall Ball, Fall 2002
Front Row (L to R): Taylor Raymond, Tori Wright, Stacey Clough, Sarah Trumbore, Kara Weber
Middle Row (L to R): Meeghan Hughes, Lauren Lokey, Alison Cornelius, Hilary Agoston, Jessica Lyon
Back Row (L to R): Coach Tiffany Spano, Kelly Larimore, Jannie Chin, Amy Bernstein, Kelsey Fiscus, EganFranks, Allison Howard Coach: Steve Clough
U12 Boys' Premier Soccer Team Wins Championship
The Northville Premier U12 Boys' soccer team emerged victorious in the Fall Ball Tournament held in Cincinnati, Ohio on October 5 and 6. The team advanced to the championship round by defeating all of the opponents in their bracket, with only one goal scored against them. In the first game, Northvllle beat the X-Ploslon with a score of 2-0. They then defeated the Bluffton Blaze , 4-1, and the STM Tigers, 1-0. In the championship game, Northville dominated the field leading 2-1. With 17 seconds on the clock, the hometown team, the MTSC Magic, scored on a strong header to throw the game into two 10 minute overtime periods. The first 10 minutes of play remained scoreless, but in the second overtime the game intensified and Northville's determination and speed was unstoppable. They outran their opponents to score on a solid breakaway shot, ending the game with a final score of 3-2.
Pictured (from left to right):
Front row: Patrick Ofiara, Chris Long, Jared Edwards, Ryan Gage, Flick Sciabassi, Eric Makinen, Michael Simms, Paul Olexa, Cameron Burdette
Back row: Zachery Tidani, Nick Kristock, Matt Sims, John Donikian, John Hatzis, Cory Smetana,Trenton Buycks, Stephen Meister,
Coach: Andy Vanover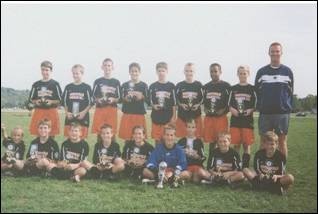 Ul4 Boys NPFC Orange
Runner up: Waterford Tournament 2002
Champions: Cincinnati Fall Ball 2002
Front Row (L to R)- Frank Iaquinta, Matt Lavena-Mover, Travis Norris, Jeremy Einem, Tony Berry, Steve Anderson, Gordie LeMasters, Brian Dulzo
Back Row (L to R): Evan Clough, Justin Kemp, Alex Wood, Rick Nddlemass, Austin Poirier, Marc Moa, Chris Vandervoort, Dan Dulzo, Sean Siney
Coaches: John Spano, Steve Clough